Mini Disco Package is designed to Host your party at home

Imagine inviting the party to your home and making your party unforgettable for your guest. Funomenalparties is a children party entertainer that goes to people venue and host the party with disco setup and games.

Funomenalparties is a company that has been established to provide fun and unforgettable party experience for children. Our entertainers are patient, friendly and mindful of the needs of our clients.




What's Included?
✔️Home Party up to 10 children's

✔️ Fantastic experienced professional DBS checked kids entertainer in uniform or fancy dress, providing an interactive party, engaging brilliantly with the children & creating a great atmosphere throughout

✔️ Amazing age-appropriate games, competitions & family entertainment. Traditional & new games with a twist, fun dancing challenges. No elimination-style games!

✔️ Amazing mini-disco with party tunes (Power will be required)

✔️ Fun bubble machine (with non-slip mat) (Power will be required)

✔️ Prizes: (winners medals) & stickers for every child

✔️ Optional extra: Add Superhero, Princess or another themed party entertainer

✔️ Courtesy call/SMS from our friendly entertainer prior to your booking taking place

✔️ Book securely on our website.


The running time ranges from 1 hr, 90 Min, 2 hours.

(Running time could be extended at discretion).

We will provide a professional entertainer who will be at your service creating non-stop entertainment, including continuous challenges and games, prizes and medals and a DANCE ACT. Special effects include bright LED Disco lights, bubble machines and speakers for sound effects.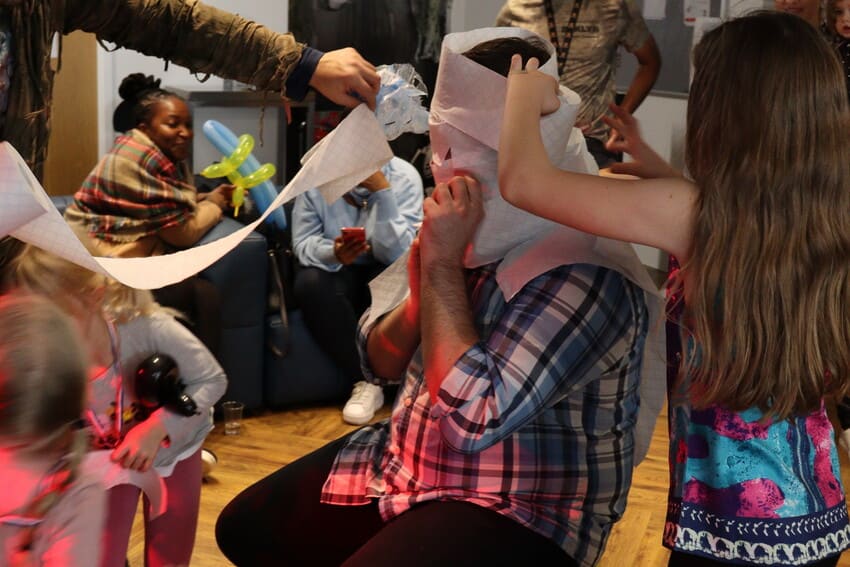 Party Games
Musical statue (try not to laugh)

Parachute Game /mouse and cat /washing machine / make the balls fly

Mummy rap challenge

Jumping bag race

Limbo

Dance battle

Conga

Back-to-back challenge

Coca Fanta challenge

Banana race

Meet the poppet

Find the ball blindfolded

Musical Bumps

Singing competition

Gangham style dance-off.

Macarena dance-off.

Bomba dance-off.

Candy dances off.

Much more...

Prices
Starts from £140
Extra: Add magic trick and balloon modelling for a small price
Thank you for choosing us!
This is a great children's party package designed for home parties. Our friendly kids' entertainer will act as the perfect host taking complete control of the event from the get-go. We will make your child's party an unforgettable moment. All we need you to do is sit back and enjoy and we promise the smile on your child's face.

This package is designed for children between the age of 4-8. For children younger than this, we normally request parental assistance. The party can be themed or non-themed the choice is yours. Contact us today for more information.






No Special Offers on this package